EU copyright reform: What does that mean for our clients and authors?
With a small majority, the EU Parlament approved a reform of copyright legislation, something which has been met with much criticism and which has left many with unanswered questions, particularly in regards to upload filters.
EU copyright reform

While the supporters of the new regulations expect a fairer remuneration for the authors and see the reform as an opportunity to strengthen the rights of publishers – a win for independent journalism – the opponents of this reform predict the downfall of the free Internet as we currently know it, resulting in not only censorship but also a consolidation of power among large platforms and publishers. What does all this mean in regards to your cooperation with Textbroker? We hope to add some clarity to the situation.

What is copyright about anyway?

Copyright is about protecting the intellectual and personal properties of an author. Since copyright law is not the same across the EU and the last directive on the subject dates to 2001 – a time before the dawn of social media – the European Union has been calling for it to be updated or replaced for years as it needs to be made fit for the digital age. The focus should be on clearer regulation regarding the use of copyrighted works such as music, videos, images and texts.
The planned copyright reform is, among other things, about:
Article 15 (formerly 11) regulates the ancillary copyright for press publishers. In the future, publishers and their authors will be entitled to licences for the use of their content by third parties. Companies, therefore, have to pay if they want to make use of online articles, and search engines are also no longer allowed to display the so-called featured snippets in their search results without further ado, as these short text bites are also subject to a charge.

Article 17 (formerly 13) lays down the new rules for online platforms such as Facebook or YouTube. From now on, platform operations will be liable if users upload copyrighted works. Given the enormous quantities of user-generated content made available on the Internet, this can most likely only be guaranteed by automatic filtering. Upload filters would have to come into play here as a technical aid.
Copyright at Texbroker: What can I expect if I want to order or to write content?

Copyright is still an important issue for Textbroker. We are also of the opinion that the use and exploitation of copyrighted content should not take place without the consent of the authors and that, of course, they should be compensated for their services. Even if the copyright is not transferable and cannot be confiscated from an author, Textbroker authors gran the client necessary exclusive rights of use and exploitation by selling their texts on our platform. Our customers are, therefore, on the safe side. They can always rely on unique content and do not have to fear a resale of the material written for them.
As a platform, we are already one step ahead. By clarifying and properly licensing all the necessary rights of authors in every situation, Textbroker is not affected by the much-debated issue of upload filters or censorship. After all, we only license custom-made content to our customers with the authors' consent.

The current situation even speaks in favour of creating or having new content created as it is another argument for unique content – and for not copying and reusing content that has already been published.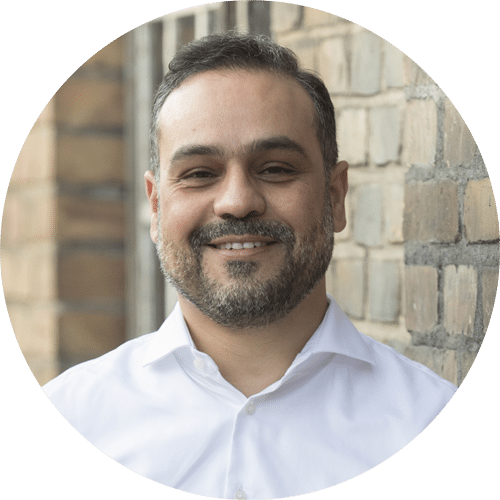 El-Hadi Zahri
Managing Director of Textbroker