Great Briefing, Great Text
At the start, there was the word. But by no means the complete text – the order description had to come first. The description is just as important and demanding as writing the content, and ultimately, you are the one determining this.
If all the order description says is 'write on this topic', then that is just what the writer will do. The result is often a revision request, perhaps even two or three. In the end, both parties are frustrated: As a client, you're annoyed because you didn't get the article you paid for. The writer is just as frustrated because s/he cannot understand why you haven't read between their lines and recognised you got the text you need. The perspective, 'But that is totally logical, it is impossible to misunderstand that' is always pushed into place by experience – it is more than possible.
So make your requirements as clear to the writer as possible. Get exactly the article you need and don't leave it to chance.
Quo vadis?
"Where are you going?" Freely translated though: 'Where do you want to go?' A deficient order description usually comes from a lack of knowledge. Do you know exactly what it is you want? If not, then how will you be able to let the writer know what you want?
Here you can see how a client does want an article on insurance, but apart from this, there is no other information.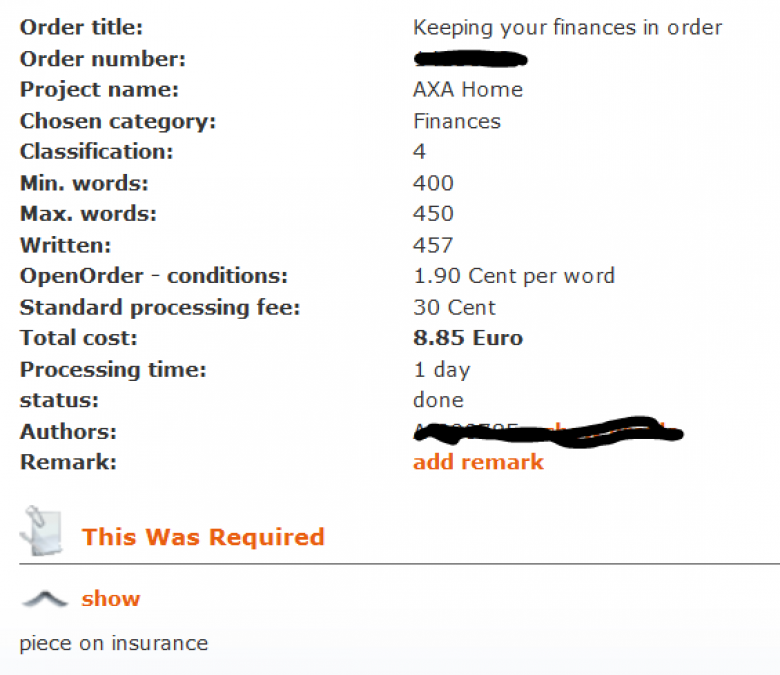 And it should not be any different with you. Take note of the following steps and you will already be much closer to your goal of receiving the perfect content.
Are you planning a project you need content for? Then you should really think about your content strategy, as this will determine your requirements for the article you need. Have a think about how you want to present yourself to others, what content you want to pass on and which target audience you want to address. Put shortly: Where are you now and where do you want to be? Only then, when you have been able to answer these questions will you be able to give the writers the information they need to successfully write your text.
Step 2: Complete the Order form
Before you start to formulate your order description, fill out the necessary fields in the order form: Order title, Project, Category, Quality level, processing time, word count and SEO options.
You can see here the things that can possibly go wrong:
Order title:
It may well be the case that the Birmingham pizza service has something to do with lightbulb fittings, but the client has forgotten to mention how. Make sure you enter a title which corresponds to the content needed and get the article you need accordingly – not an irrelevant article about lightbulb fittings.
Category: Here the client clearly had a real mixed salad in mind. Or perhaps just wanted the writer to take into account the technical aspects of cookery. Who knows? In either case, the connection between the two topics is just as much a puzzle for the writer.
Quality Level:
The choice of category – one of the most important decisions for your order. What are the requirements of your article? The higher your expectations, the more sense it makes to place your order with a higher star quality. If you know the writer is going to be sitting for hours researching and writing your text, place it at a quality level where you know the writer will be paid for the work needed. This increases the satisfaction on both sides: The writer knows it is worth putting the effort in and will not be overwhelmed, and you receive exactly the order you have paid for.
Word count: Don't forget to enter in your word count!
It is recommended to leave a bit of leeway between the minimum and maximum number of words so that the writer is not set with an impossible boundary.
A good article cannot be fixed at 10 words more or less. It certainly makes sense to think about the general length of article you need and select the length in correspondence with the topic. As you can see below, it can be difficult for the author to compose a thorough instruction manual for replacing a car exhaust in 300 words-max.
Here the client has given the correct number of words into the order field, but given free rein to the flow of text in the order description. It's a nice suggestion, but one which just brings a tired smile to the writer's face.
Small Tip: Best would be to either leave it out, or reserve a couple of Euros for a longer, but more fitting, text.
Step 3: Last point before the real Briefing
If you have filled out the rest of the form, you can get started on your description. But just before, a few quick tips:
Friendly Tone:
Writers are people too, you know! They are also happier when addressed politely and this also prompts a trusted Thanks. What you will get in return is an article written by a content writer, excuse the pun, meaning better texts.
Other Conditions:
Any other special conditions which may arise, for example an extension of more than four days on the automatic accept function, should also be mentioned in your briefing so that the writer can take this into account.
Short and Precise:
Despite the volume of information, you should try and keep your order description as short as possible: An order which is actually longer than the text requested is intimidating and may also lead a writer to overlooking important details. It is your mission to decide between the essential and inessential information-a task which our example client failed to achieve.
The points which are and are not essential and the things you should mention in your briefing will be covered in part two.