Inbound marketing is one of the hottest strategies for advertising agencies. This strategy has been around for some time now and many marketing agencies are already implementing it. Inbound marketing works differently to traditional advertising methods. An excellent understanding of the target group, the right content strategies as well as patience and the willingness to learn are the main ingredients for success.
More and more agencies are facing the challenge of generating qualified leads. They are up against fierce competition and high costs. In fact, these agencies are still wary of long-term strategies, such as content marketing, which practices the same mechanisms as direct marketing.
But you may have already noticed that "traditional" advertising on the Internet through advertisements, banners, pop-up ads and promotional emails are increasingly losing their appeal. You will have come across these annoying and flashy ads yourself every day. Do they encourage you to make a purchase or visit a website? No – you just close the links and carry on with what you were doing.
Your reaction is exactly the same as most other web users: You are "experiencing" advertising blindness. You were probably looking for something very different when the pop-up ad from the digital Stone Age disturbed your thoughts. But finally, you'll find what you're looking for – a graphics tutorial, a travel report about the Bahamas, or maybe a video review on the new mountain bike you've had your eye on for some time.
The point is: Successful inbound marketing must have caught your attention by ensuring you find a service or product through informative content. Take advantage of this emerging marketing trend and stop trying to find customers. Let the customers find you.
Pushy and forceful ads are no longer welcomed on the Internet – Content is King!

What you will learn on this page:
Here is an overview of the topics we have prepared for you on this page:
What is inbound marketing – a detailed description
Inbound marketing steps
Inbound marketing tools
How agencies generate leads using this approach
Finding suitable freelancers
How we can help with your content creation
What is

inbound marketing?
Inbound marketing is essentially the art of attracting new customers without the use of direct marketing. This type of marketing mainly takes place online in the form of effective content strategies in social networks, blogs and other web channels.
Rather than dealing with the target group with outbound measures, you provide content that sustainably informs, engages or entertains your customers. You provide users who are fed up with intrusive direct mail with high-quality content. Your goal: To convert prospects into customers – i.e. satisfied customers, who will in turn engage in word of mouth and attract more interested users.
Outbound marketing is not as connected with useful or ongoing content as inbound marketing. This is one of the biggest plus points of this marketing strategy. By creating content, you strengthen sales and promote lead generation. Generating leads, or at least gaining contact addresses, is the main purpose of inbound marketing.
In the after-lead phase, the generated leads are converted into sales, i.e. into purchases and orders. To put it simply, the procedure is based on the tried-and-tested AIDA principle (Attention, Interest, Desire, Action):

Attention:
Attract users' attention by targeting content that matches your audience's most common search queries and can be reliably found through search engine optimisation or clever placement on social media.
Interest:
The content found helps users solve their problems or answers their questions. The quality of the content arouses interest in learning more and consuming more content. The interested people ask themselves: "What kind of information does the offer contain? What's useful about these products or services?"
Desire:
The more information you provide about your offer, the more feedback, experiences and customer reviews can be obtained from those interested in your service or product and the more you stand out. The interested parties are, therefore, more likely to show interest in receiving further information about your service or to try your offer for themselves.
Action:
Your inbound marketing strategy has worked – the prospect turns into a lead by providing their details when making contact. You are seen as an expert in your field, the user will take action and the likelihood that a new customer will emerge grows tremendously. Satisfied customers are also willing to recommend you and give your brand free and authentic word of mouth. Once you reach that point, your users will become more receptive to your targeted direct mail as they are now familiar with your offer.
Inbound marketing, is, therefore, about earning the trust of users to generate orders and sales. User behaviour is the central factor of content strategies that encourage the customer to become an active participant.
The customer is part of

the inbound marketing
In traditional marketing, communication is one-sided from the company to the customer. The clientele can review the advertising messages and either accept or reject the offers. There are no further interactions with outbound marketing.
In inbound marketing, on the other hand, communication works in both ways. Your customers decide for themselves which content they are interested in and even influence other people's decision through feedback. The exchange between customer and company is an essential part of successful lead marketing. Most leads will be collected online through social networks and similar channels. These are the groups and influencers who are waiting to hear about your offer. Trust must be earned in these circles through honest communication.
Customers who share and recommend your content naturally provide backlinks to your offer. Happy customers become advocates of your company, through free advertising and attracting new customers to their circle of friends and acquaintances. This effect multiples greatly when popular influencers become your fans, but we'll talk more about influencer marketing later.
Nowadays, it is becoming increasingly rare for customers to be completely satisfied with a company or service provider. So if you find a brand that has almost no negative reviews, its customers are more likely to stay loyal in the long term.
Inbound marketing offers companies valuable opportunities to engage their customers and respond to their needs. In addition, you can be sure that your content mainly attracts users who are already looking for what you are offering.


Need good content for your inbound marketing?
Join Textbroker and find over 80,000 customers worldwide for your content.
Additional marketing measures

as support
Content and inbound marketing can be partially supported by other sales measures.
Conversion Rate Optimisation (CRO)
These are measures that contribute to increasing the conversion rate. It is important to first assess the success of your own efforts in lead marketing and adjust the content strategy accordingly. This is done, for example, by A/B tests of landing pages or promotional e-mails. Above all, it is important that only one element (a heading, a colour, a navigation menu, etc.) is changed at a time in order not to dilute the result.
After evaluating the results, optimisation measures can then be implemented. In addition to the content itself, factors such as the layout, performance and display on mobile devices as well as user-friendly and transparent ordering processes (keyword shopping basket optimisation) contribute to a positive customer experience.
Customer Relationship Management (CRM)
Customer Relationship Management is all about customer care. In order to keep up with the wealth of customer data and control all actions in a meaningful way, you can use CRM systems. These are software solutions that help identify and classify new leads. CRM platforms can also be used to organise e-mails, orders, invoices and appointments. You can use it to evaluate customer statistics and find additional sales potentials. Find out what your customers are passionate about and optimise your service accordingly!
Here are some of the most popular CRM systems:


Newsletter marketing
Newsletters can support inbound marketing as long as they are tailored to the interests of the target group. You can make subscribing to the newsletter tempting by placing a sign-up feature on a website that is full of valuable content. The mailings can contain particularly exclusive or up-to-date content and must be suitable for attaching targeted advertising messages. Note: Anyone who is excited about reading your content is no longer ad-blind. You can find more tips on newsletter marketing in our Expert Center.

Lead nurturing
Literally meaning "to nurture sales leads" – it is all about providing content that depicts your offer as the best choice. The goal is to provide interested parties with the information they need to help them make their purchasing decisions. Lead nurturing aims to ensure that potential customers get in touch with you on their own initiative. Good timing is important because prospects go through different phases. Incidentally, the AIDA principle is also used here:
Phase 1:
The prospect lands on your website because they are looking for general information about a particular question or problem. Your page should provide detailed and useful content that will help the reader and attract their interest in your offer.


Phase 2:
The interested party can now search your content specifically to find solutions to their problem. Lead generation also starts in this phase, when the user signs up by entering their contact details or making contact via a corresponding function (e-mail, comment, Facebook). From this point on, direct contact with the interested party can be sought – and the start of a close relationship can be developed.


Phase 3:
The prospect is now a qualified lead and ready to pay for your products or services. Every detail counts – you have to prove the value of your offer. Why is your company or your product the best choice?


Phase 4:
The deal is complete – the lead is now a customer and starts making orders from you. It is up to you to deliver on your promises and to make sure that your customer is satisfied. Remember: Happy customers are valuable advocates.
Every strategy begins with a goal. In inbound marketing, online lead generation is the main objective. This goal is achieved through the right content strategy. Below is an overview of the recommended steps in inbound marketing.
Define the goals to be achieved and the target group.
Research of possible topics and keyword analysis.
Selection of topics and suitable content types.
Set priorities (which topic, which method to use first).
Create an action plan and distribute tasks in the team.
Briefing of internal employees as well as external service providers (freelancers for text, graphics, etc.).
Content auditing (inventory of all existing content).
Creation of new content.
Posting new content after proofreading (spelling mistakes, fact checking the information, etc.).
Publish content in selected channels.
Can be supported by CRO, CRM, lead nurturing and similar sales strategies.
Lead generation process: Generating leads until reaching the purchase decision.
Evaluation of measures – content analysis.
If necessary, adapt the content strategy.
Lead marketing

based on inbound methodology
With its inbound methodology, HubSpot, the software developer and globally active inbound specialist, has scientifically dissected the basic approach to inbound marketing. This model can be considered as industry standard. HubSpot founders, Shah and Halligan, have made a strong emphasis on promoting this new type of marketing with their 2009 book
"Inbound Marketing: Get Found Using Google, Social Media and Blogs"
.
Users go through four different phases:
Attract:
First, new prospects must be attracted. They are initially strangers who need to be persuaded to visit your website. This can be achieved by offering relevant content for your target group during their search.
Hubspot experts see blogging as one of the best ways to get traffic to your website. Your blog should contain informative and useful content to add value to visitors. Use SEO strategies so that search engines rank your page as high as possible. Social media is also great for sharing content, presenting your business and interacting with your users.
Convert:
In this phase, visitors are converted into leads. Communicate with the interested parties and, in case of doubt, let them choose the form of communication themselves. You can offer contact via live chat, through contact forms, or as a personal phone call or meeting. Answer the visitors' questions and offer them relevant contents based on their queries. Providing contact details such as an address, email, or phone number turns visitors into leads. CRM tools help you manage your leads and customers.
Close:
Phase three is all about closing the deal. Interest has been aroused, the visitor has become the lead and should now become your customer. Lead nurturing plays an important role in maintaining customer relationships. Always customise your content to keep it interesting for your customers. E-mail marketing that's relevant to the customers' interest will be highly welcomed by them. As a result, the psychological barrier before the purchase decreases and the willingness to buy increases.
If you're dealing with a lot of leads, we recommend that you use tools that are suitable for automatically processing and evaluating leads. This allows you to identify the most promising candidates for targeted marketing campaigns. Learn more about the different tools for inbound content marketing and lead marketing below.

Delight:
Inspire your customers! Make sure that they remember your company in a positive way and are happy to recommend you. Put yourself in the customer's shoes and treat them the same way you would treat your best friends.


Inbound marketing


tools

Online marketing tools that function as pull marketing – i.e. advertising with a pull effect – are also suitable for inbound marketing. Pull marketing works on the basis that there is a need in the target group for solutions to problems or to specific services or products. These solutions are provided in the form of content creation without aggressively promoting your own offer. Various tools are suitable for attracting prospects via inbound marketing.

Social media
For lead generation, use Facebook, Twitter, YouTube, Instagram or other similar social media that is frequently visited by your audience. Be sure to post interesting, useful and entertaining content that users like to share. Since you can appear on social media for free, the leads you can generate there are also for free.

Blogs
In your blog, you can write extensively and provide detailed, quality information. Blogs are often written personally and allow people to draw up conclusions on the blogger's character. Therefore, in addition to the actual informative factor, you must also show your empathy to your readers. The more an interested person can identify with you as a blogger, the more likely they are to sign up on your website or share your posts.

SEO
Search engine optimisation is an indispensable part of every form of content marketing. By cleverly placing keywords in conjunction with rich texts, you increase the chances of being found on Google search by your prospects. Always follow the search trends to make your latest content as relevant as possible. Tools, such as Google Trends will help you in this process.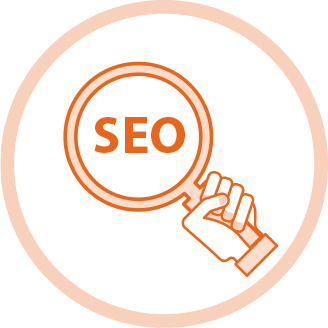 Landing Pages
Landing pages – like the one here – are stand-alone web pages filled with focused information. The user should be informed as comprehensively as possible about the respective topic. It is often about solving a specific problem, but Landing pages can also contain detailed information about travel destinations, specific products or certain services. Finally, a call-to-action will encourage the visitor to sign up and thus convert into a lead.

E-Books
E-books are another method of providing comprehensive information. Creating a good e-book requires a lot of work, but will make you look highly competent. Of course, the content should also be well researched and prepared. Since e-books are so valuable, they should not just be given away as a free gift, for example, as a prize in a draw, for submission of contact details, or even as part of a transaction.
You can theoretically sell a good e-book yourself and contribute to the overall impression of your company. For example, you can self-publish on Amazon or through a provider such as, Troubador.

Infographics
A lot of the information can be presented graphically in a clear way. Infographics are easy to consume and are often shared in social media. To create good infographics, it takes a certain creative skill but if you lack such skills, it is advisable to hire a freelancer. Of course, graphics are not a must in inbound marketing. However, you can provide an alternative to plain text or illustrate additional info text.

Personalised e-mail marketing
By addressing the recipient directly and carefully selecting the topics, advertising blindness can be overcome. For example, send emails to new leads and provide them with new information. Personalised emails are also very useful for generating B2B leads. The email subject line and the quality of the content are the most crucial factors for success.

Influencer Marketing
Influencers are mostly bloggers or vloggers with a huge fan base. Celebrities in ads or product placement in movies and series are also forms of influencer marketing. If you succeed in attracting such influencers to your website, you can quickly increase the reach of your brand.


Whether you need blog content or landing pages – you will find the right author with us!
Join Textbroker and find over 80,000 customers worldwide and for your inbound marketing.
How agencies use inbound marketing

to generate leads
Inbound marketing strategies are used mainly in the business-to-business (B2B) sector. Especially for agencies in the advertising or software industry, content marketing strategies are suitable for generating B2B leads. Although smaller advertising agencies also handle orders for private customers, business customers – companies, government agencies and organisations – usually account for the largest share of sales. B2B content marketing is utilised in order to convince these customers about the quality of their services, to qualify them as B2B leads and to encourage them to place orders.
In the business-to-business sector, many leads can be researched online. In business directories, forums or social media, you gain an overview of possible business customers. Advertisements for pitches, job offers or advertisements from potential customers highlight their needs. The website and the corporate identity also provide information on whether you can offer the potential lead the services of your agency.
Advertising agencies define their style visually through layout, typography and design – sophisticated content strategies give a positive and competent image of the company. A professional website is essential for successful B2B inbound marketing.

The ideal

inbound marketing team
A team that's responsible for inbound marketing should be carefully selected. If possible, every agency should assign at least one permanent employee for the inbound marketing task. Even if the content creation and short-term content strategies are outsourced to freelancers, long-term strategic decisions should be decided and managed in-house within the company. This way, you will be able to take charge of the task and not fully depend on the know-how of external freelancers.
Within your own inbound marketing team, tasks can be delegated, service providers can be coordinated and agreements can be made about the content strategy. The internal content marketing team should develop with the company. This is not a side job – managing inbound marketing on a large scale requires a lot of dedication and hard work.
It is also about making your employees identify with the brand they are advertising. So treat your team members the same as your customers. Creating harmony in the team is an important prerequisite for the success of any creative project.
Typical positions within an inbound marketing team include:


Social Media Specialists:
Social media experts for group and content creation.


SEO Specialists:
Specialists in optimising search engine content, keyword analytics and metadata.


Marketing Controllers:
They evaluate marketing activities, analyse strategies and make recommendations for customisations.


PR experts:
The larger a company, the more professional the external presentation should be. PR specialists will communicate with customers, influencers and the press in order to create a positive image of your company.
Why hire freelancers

for your inbound marketing?
Freelancers from the fields of design, text or SEO can help you with inbound marketing in many ways.
According to a study by the Adecco Group, around 80 per cent of companies prefer hiring freelancers. The highest demand for freelancers exists in the IT, consulting and engineering sectors. Nevertheless, the study showed that many companies struggle to find good freelancers for their projects.

The most important reasons

to work with freelancers
There are many good reasons for companies to hire freelancers. Here are some of the most important factors that make freelancers a better choice than permanent employees: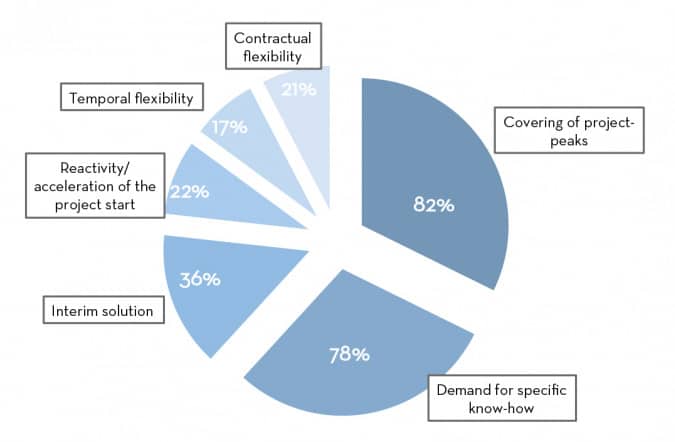 What does this pie chart tell us?
Covering of project-peaks:
If projects overlap or a single project requires more effort, freelancers can be transitionally hired.


Demand for specific know-how:
Hire freelancers to do the work that neither you nor your employees can do. Content creation is a task for which many specialist freelancers can be found. This also includes tasks that can often only be carried out by specialists. For example, translation of content into other languages.


Interim solutions:
Transitional solutions can be provided by freelancers. For example, when permanent employees resign or retire, or female employees go on maternity leave.


Reactivity / acceleration of the project start:
Especially at the beginning of a new campaign or other projects, the extra work and expertise of an experienced freelancer can help to avoid pitfalls and achieve better and faster results.


Contractual flexibility:
Contracts with freelancers can be flexibly and individually negotiated, both in terms of their duration and in terms of content such as the distribution of tasks or rates. You will find various freelancer hourly rate calculators online, which provide an approximate overview of the expected prices. Such freelancer calculators are primarily intended to help newly-hired freelancers to calculate reasonable prices.


Temporal flexibility:
The flexibility of most freelancers makes it possible to hire them for individual projects or short-term jobs.
Most freelancers have stated that they particularly appreciate the independence and variety of tasks. But many of these freelancers also reported difficulties in finding suitable projects.
Can't write?
Let us help!
You don't feel confident enough to write high-quality text and don't have any employees? We can easily help you out.
With Textbroker, you can start with a smaller budget and adjust your costs based on the respective tasks. Skilled copywriters are available for a variety of topics. You can create teams or send selected copywriters direct orders to ensure a consistent writing style. You can also find professional authors on Textbroker.co.uk for specialised tasks such as proofreading, editing or content translation.
Arrangements with copywriters are made easily via the internal message tool. When creating briefings and assignments, our service team will be pleased to advise you at any time.
Register now as a client to start sending your first orders immediately!

A final word …
In the old Christmas movie "The Miracle of Manhattan", something great happens: The department store's Santa Claus, Kris Kringle, sends customers to another shop as the toys there are cheaper. What seems like every marketing boss's nightmare becomes a surprise hit. This is because Kringle – who is the real Santa Claus, by the way – puts the spirit of Christmas ahead of profit and wins customer loyalty this way. Yes, that's right: Customers will gladly pay the higher price as they feel valued by the store.
That's ultimately what inbound marketing is all about. Now, we're not advising you to direct your customers to your competitors. But the mindset is the right one: The customer's well-being must be at the centre of every inbound campaign, from B2B lead generation to the private customer next door.
Generate qualified leads, influence purchasing decisions and bind customers to your company in the long term – these are your goals.
It's time for professional inbound marketing. Go and grab it now!


Do you need help creating your content?
Join Textbroker and get access to over 80,000 customers worldwide.