B2B Marketing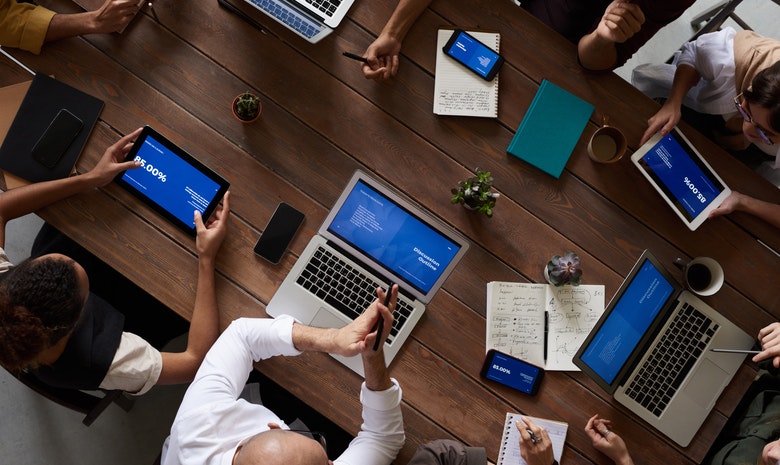 B2B Marketing: Brief Summary
B2B marketing, or business-to-business marketing, refers to marketing strategies, techniques or approaches that are targeted from one business to another. Generally, marketing of this kind will be related to products and/or services and most B2B marketing strategies are intended to lead to a transaction-based relationship between two companies.
As a concept, B2B commerce is often compared to B2C (business-to-consumer) commerce. For this reason, similar comparisons are also made between B2B marketing and B2C marketing and although there are some similarities in terms of tools and techniques, there are often significant differences in terms of strategies and approaches.
B2B Marketing: Detailed Summary
Business-to-business transactions occur when one business completes a purchase from another, and this can occur for a wide range of different reasons. For instance, a restaurant may order various ingredients from a supplier in order to make its meals, while an office-based business may purchase new computer equipment from a technology company.
B2B marketing is, therefore, intended to encourage this kind of transactional relationship and usually takes the form of one business promoting its products or service to other businesses. This may be done on an individual basis, with marketing specifically aimed at one other business. However, equally, it may be much more general, with the B2B marketing strategy being aimed at all businesses within a certain industry, or with a certain need.
Comparisons are often made between B2B marketing and B2C marketing, and in general, many of the same techniques are used. For example, it is common for both B2B and B2C marketers to use online display advertising, articles, blogs and SEO, or to create video content or white papers explaining the benefits of products or services.
Yet, at the same time, it is important to understand that there are fundamental differences between B2B and B2C approaches and this impacts marketing strategies. For one thing, consumers are more likely to make purchasing decisions based on ideas of fashion, status or nostalgia, whereas businesses tend to be motivated by quality and price.
For this reason, B2B marketing efforts will often be more centred on presenting facts, technical information and evidence for a product or service delivering success, whereas B2C marketing may try to appeal to consumers on a much more emotional level. Often, B2B marketing is designed to show value and a potential return on investment (ROI). In comparison, ROI is less likely to be a factor for consumers buying clothes, smartphones or household appliances.
Similarly, B2B marketing tends to be more focused than its B2C counterpart, because the target audience is often a much smaller, more specific group of decision-makers within businesses. By contrast, a B2C marketing campaign will often be designed to reach a much broader audience, with diverse interests and reasons for buying products or services.
Another thing to keep in mind is that B2B relationships tend to be long-term, with a business repeatedly ordering from the same suppliers, or repeatedly turning to the same business partners for other purposes. While it is certainly the case that B2C relationships can be long-term, they are also often based on one-off purchasing decisions. Therefore, it stands to reason that B2B marketing efforts may need to be geared towards generating lasting loyalty.
Tips for B2B Marketing Success
As a general rule, business-to-business marketing content needs to be informative and grounded in the value that products or services can actually deliver for another business. Unlike B2C marketing, the people who make buying decisions for businesses tend to bypass their own emotional response. It is also vital to understand that decision-makers are acting in the interests of a business, whereas consumers act in their own interests.
In order for a B2B marketing campaign to be successful, marketers need to be very clear on who their target audience is. In some cases, this can be an extremely niche audience, motivated by different things from the average buyer. Therefore, it is usually advisable to create buyer personas and be clear on how you will target each of them.
With B2B marketing, having a strong online presence is crucial. In particular, you need to make sure your website is informative, optimised for different platforms and provides all of the information a buyer needs before making a purchase. Social media can be crucial too, so B2B companies should typically have a presence on the major platforms.
One of the main components of any B2B marketing strategy is content marketing. In fact, according to an article from Hubspot, 80 per cent of business decision-makers would rather get information from an article than an advertisement. Crucially, long-form content provides more detail and reveals more about a business offering.
From the marketer's perspective, content marketing provides an opportunity to inform a target audience about the benefits of using a product or service. However, beyond this, content marketing can also be used to establish trust more generally, by showcasing expertise and positioning a business or individual as a thought leader.
When possible, B2B marketers should back up claims with clear evidence. Facts, figures and statistics tend to be more important than with B2C marketing, and testimony from previous customers tends to hold more sway too.
Advantages and Disadvantages
One of the single biggest advantages of B2B marketing is the ability to generate a large volume of sales from a single buyer. This is because, unlike with B2C transactions, businesses tend to develop long-lasting relationships, where they buy a product in bulk, or where they regularly return for the same service.
This, combined with the fact that B2B marketing is more targeted, means that a smaller number of people will typically need to be persuaded by the marketing efforts than with B2C marketing, in order to generate the same volume of sales. In some cases, a single individual or a small team may have the power to make buying decisions for an organisation, resulting in a significant amount of business being generated. As a result, mass appeal is less essential.
A potential disadvantage associated with B2B marketing is the fact that B2B purchasing decisions tend to take longer, with more care going into each decision. For example, the individual or team making the purchase may have been persuaded by promotional material, but they may still need to gain authority from their boss.
Additionally, businesses tend to need to demonstrate a return on investment before a B2B transaction is given the green light. By comparison, some B2C transactions are influenced by impulsiveness. This means that B2B marketing material needs to be thoroughly convincing and will often have to highlight a proven track record of success.
Conclusion
B2B marketing occurs when one business attempts to promote products or services to another business, usually with the intention of creating a transactional relationship. The differences between B2B marketing and B2C marketing mean it is especially important to focus on a clear target audience, understand their wants and needs, and then present factual information about products or services, highlighting the tangible benefits they can deliver.
When this is done effectively, B2B marketing can pay huge dividends, as businesses tend to deal in larger quantities of products, or continuous, long-term use of services. Nevertheless, B2B marketing can also be more difficult in some ways, as decisions are less likely to be driven by emotions, personal preferences, fashion trends, or impulses.
Join over 80,000 customers world-wide, and use Textbroker for your Content Marketing. 
---