Whether you're a small start-up or a large corporation, connecting to customers online is a must for every business. What makes content on the net so special is that it must not only convince the reader, but also the search engines. Efficient messages should be easy to produce and publish, but the criteria go hand in hand and you have to accommodate both. After all, a
good ranking
ensures that even more users read your
web content
, but poor quality will see readers and scanners move away faster than you can blink.
What is

web content?
This includes various
textual and multimedia
content, i.e. everything that appears on the Internet. The formats range from websites and blogs, to social media. The marketing world of the digital age can no longer be imagined without online content because it not only helps to increase sales, but also brand awareness and customer loyalty. Of course, to become a real crowd-puller you need exciting product pages, helpful service, transparent prices, authentic ratings, an appealing About Us page about us and perhaps through the use of sympathetic testimonials.
High-quality content
will bring your online presence up to speed and climb to the top of search engine rankings, with SEO forming the basis for success.
Multimedia content:

Variety makes all the difference
Web content must be accessible to a very broad audience, while at the same time specifically appeal to your preferred target group. If yours is a younger demographic, newer social mediums are a good way to spread your content. If you mainly have older prospects and would like to address business customers specifically, you are usually on the safe side with e-mail messages and channels such as Facebook and LinkedIn. Content types that move with the times are multimedia and interactive.
The whole thing starts with the right selection of topics, where you concentrate on what interests your visitors, while at the same time making the search engines happy. The weighting of topics can be supported, for example, by Ubersuggest or the Google keyword planner. Here, you can research the most relevant keywords and get a breakdown of how often certain terms are searched, giving you valuable insight into the topics users are asking for.
A future-proof content strategy is also indispensable in this context, so think in advance how you can best coordinate and harmonise the planning, production and distribution of your content. You should always have your primary goals in mind, such as uniform branding, a coherent corporate image, an improved ranking or more profit.

Web content

your readers can rely on
In times of
fake news
and a flooded content landscape, it is important to win the trust of readers through an online medium. Visitors should also be able to find the information they want as quickly as possible, otherwise you won't keep them for long. Basically, anyone can write for the web – even anonymously – so credibility is the top priority for customers and prospects alike. For all of them, the personal component is very important, particularly if they want a place where they can exchange ideas.
In this context, the Basic Data Protection Ordinance General Data Protection Regulation (GDPR) is not only a restriction, but also an opportunity: You can stand out from the competition by emphasising to your customers that they can rely on the sensitive handling of data.
First of all, however, you should deal with the basic needs and expectations of the target group to be addressed by asking yourself what you want your digital corporate identity to convey, what exactly your goal is and who your readers are likely to be.

Content types

from A to W: Articles to whitepapers
It doesn't matter how outstanding your website design and technology are if the content doesn't match. Effective content is that which attracts, informs and inspires visitors. You can even go so far as to say that the
website design depends on the content
. You can distinguish between text, audio and video content as well as graphics and photos:
Articles
… such as blog posts or press reports are among the classic text formats.
Checklists
… are much loved among the readership, particularly their visual format and the associated possibility of ticking off points individually.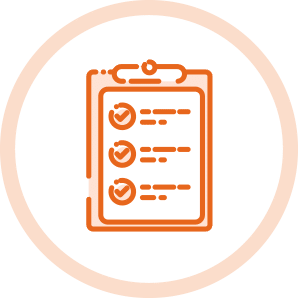 E-books
… are the digital alternative to physical books and this kind of reading is just as accessible. They combine text and images to represent gravity and seriousness.
Newsletters
… mainly in text form, these offer information about current events and give an overall impression of the nature of a company.
Podcasts
…are like a radio show. However, you are not tied to a specific broadcast date and can listen to it like an audiobook while you are on the move.
Videos
Whether an image video, interview, tutorial or music video, there is plenty of room for creative development. These are easily shared in social media channels and may even spread virally, provided they are well executed.
Webinars
… satisfy a thirst for knowledge and are a popular format for individualised further training. If you offer them, you can reach users at many touchpoints and encourage interactivity.
Whitepapers
… are particularly popular in the B2B sector. They are the ideal medium to deepen existing knowledge and gain insights into trends and expert topics. Your company can present itself in the best light, shining with perceived expertise.

Do you lack the necessary feeling for language?
Our authors will be happy to help you.
Content types

and their tasks
For every company, there are different networks that will more effectively lead to engagement. What they all have in common is that they should enhance the image of the company and win customers. Here is a small selection, sorted according to the respective task or goal that is associated with the specific web content:
Information
Whether podcast, instruction manual or video in format, the main point is that it is current. But this also means that you need to have the capacity to update your news section regularly. E-books are great for going into a topic in in-depth and for making a professional impression. If you want to tailor topics to a specific target group, you might want to offer specialist articles, for example in an infobox. Here, you can address interesting case studies or rely on multiplier marketing by letting influencers have their say.

Inspiration
Winning real fans and generating leads needs content that picks the reader up on an emotional level by making them laugh or think. You should entertain your target audience in an interesting way and can package your company's messages and communicate them forcefully, for example, in a video or competition. The key here is how you do it. Another possible way into the minds of your target group is via social media channels because in this network, you can react immediately to certain events and are constantly interacting with your users.

Solving problems
Example: How do I create a raised bed and when can I best plant it with what? Your user can find the answers to these questions in the form of an instructional manual which can either be a detailed text and/or a video. You can also encourage your users to try something new. Tips and suggestions may not always exactly solve the problem, but they can still enrich and ease the everyday life of your users.

Trigger debate
If you participate in discussions on topics that move people, you can reach many readers at the same time. Remember, however, that you don't want to scare away customers with polarising topics, so make sure you can reliably manage the exchanges that arise on your site.

Encourage participation
Website content such as texts, graphics, videos or podcasts may sometimes provide comprehensive information and sometimes simply entertain. Apart from the ability to comment, the user passively consumes this type of content. Alternatively, with interactive content, they can move into the role of the participant. Whether via multimedia storytelling, quizzes or surveys, the focus here is on experience and exchange. The user therefore has to become proactive by designing and deciding their experience for themselves, rewarded for their involvement with information. For this type of content to remain effective, you need to make sure you don't overload the reader with interactivity.
Content to inspire participation and comment: How can the reader gain access?


through sweepstakes wins


through interactive graphics


through online calculators


through quizzes


though slide shows


through games


through tests


through Widgets


Text as the King

of content types
Good texts have a very special effect on the Internet, be it on a website, in a blog, through an online shop or via social media channels. Good also means that they are relevant, interesting, high-quality, honest and unique. The more successful your texts, the more problems they solve, the more they convey added value to your customers and the more they present the company as having real expertise. In addition, good texts provide website
traffic
to allow for
successful branding
. Text content is the most common content type and, given how relatively quick and inexpensive it is to create, will probably continue to be so in the future. In a nutshell: Texts should be written in such a way that they best respond to the needs of the user.
What makes a good text?
A good text inspires from the very first word and is anything but a pointless string of letters. A meaningful, crisp headline will arouse curiosity and make someone want to read on. The other argument to be made for putting most of your effort into the headline is that 80% of visitors only notice the upper part of the page. This means that only a small percentage of them will actually consider the article itself or pay attention to the graphics.
The teaser, which briefly describes the content, also makes a decisive contribution to engagement. If your text then interests the reader on a linguistic level with an entertaining style, easily understood language and a simple sentence structure – and if it is memorable – then you've achieved one of your goals.
Let the

verbs speak!
Simple, understandable, vivid and pictorial sentences
make a light and engaging text. Swollen-sounding substantiations, however, are unnecessary linguistic ballast. As are passive constructions and modal verbs. The subjunctive also complicates the whole thing and makes it seem cumbersome. So
relax
: Both yourself and your text. You can give concrete and descriptive examples, ask questions, surprise the reader a little or even incorporate messages with a wink, but the magic word for all of this is
active
. Just as the language used should be dynamic, so should your website itself. Because nothing here is carved in stone or permanent like a printed article, but instead should be continuously adapted and optimised. After all, a website – based on traffic and user behaviour data – is constantly evolving.
This is where your instinct is needed:


Answer the W questions that your users might ask themselves.


Pay attention to a varied sentence structure.


Critical quality control at the end is vital. Your eyes are often blind to your own mistakes, so an independent assessment will help enormously.


Active formulations set the tone, so avoid passive constructions at all costs. Also discouraging: Word duplications and filler.


Skimming:

Understanding reading behaviour on the net
Reading is now less about an armchair and a book, and now more about the digital world. Particularly in view of the fact that we read differently online and
only 16% of users read through the entire web text
, every hook is vital. Or to put it another way: Engagement now depends on whether you succeed in inspiring online readers – even those who just skim the text.
When it comes to a book or an article in a magazine, we're moving from sentence to sentence. Our brains process screen texts differently to print and our eyes find reading an illuminated screen more strenuous than paper. That's why it's important to skilfully guide website visitors. Make things easier for readers by allowing them to quickly absorb content through a deliberate placement of structural elements.


Want to make your web content a success?
Register now and find the right author for your texts.
Do your visitors stay

or do they move on?
Remember that most readers on the Internet are looking for
concrete information
and don't want to be entertained – except on YouTube and the social media channels, of course. In addition, the
flow
of reading on the Internet is different. On the one hand, we are searching and browsing at greater speeds and with less patience, on the other, there is no question of "devouring" words as you would with a book, because
the speed of online reading slows by up to 25%
. If we add up all the articles, posts, e-mails and text messages – after all, telephone calls are becoming increasingly less frequent – we still read the equivalent of roughly one novel a day.
According to various eye-tracking data, the way in which we scan web content follows a specific F-shaped pattern. Of course, pictures and videos can contribute to a reader deviating from their usual route, but generally the following happens: After the eyes have moved horizontally over the first sentence from left to right, the reader scans the content vertically from top to bottom, looking for connecting points. Once they find what they're looking for, their gaze wanders across the text towards the right again, before continuing a vertical scan. So use this knowledge and place your most important or relevant information and keywords at the beginning of every headline and paragraph.




Just as the reader's eyes roam through the text looking for a corresponding keyword and concentrate primarily on the left half, crawlers – often referred to as robots or spiders – proceed like Googlebot.

The ideal structure of

web texts
Now let's go back to the beginning: A number creates a structure for the reader. For example, they can adjust to the time required for reading if you provide an idea of the volume involved. Subheadings – usually H2 is only followed by H3 and H4, but the hierarchical sequence should always be visible through the chosen design – divide the text into
meaningful sections
, thereby
improving readability
and
SEO-friendliness
. A number can also be used in the headline to attract attention and encourage further reading, while
unexpected statements and concrete promises of benefits
also contribute to its success. As already mentioned, a telegram-style headline is particularly important in online texts because the reader looks at it first. It should be unexaggerated, focus on the essential, avoid filler words and overly clever word games, providing the necessary "spice" through brevity. Headlines should ideally contain
60-80 characters
, a popular search term and, from an SEO point of view, the main keyword should also appear. Google not only reviews but rewards, so content that is unique with high quality will be judged more favourably.
What also contributes to a successful structure is the perception that it makes reading easier. This means that – in addition to pictures, graphics and videos as interactive and loosening elements – there should be short summaries for the individual sections as well as bullet points for clarity and bold text for emphasis.
It is also important for the structure that there is enough white on the page so that the contrast ratio, i.e. the colour difference between background and font, allows the typography – especially given the increase of mobile use – to do the rest.

A Step-by-step guide

to building your web content
Readability:
Sensible sections that guide the reader and naturally give them short breaks.
Information at a glance:
The most relevant information belongs concisely at the beginning or detailed at the end. This is where the central message sits – or the classic W-questions are answered – and is the very definition of the funnel structure, also known as the inverted pyramid. It is designed so that the reader can exit the text if they have no time, but still lets them feel properly informed about the most important things. The funnel structure accommodates any situation that the reader might be reading in. For example, one moment they might only have time to scan it quickly, but later will have enough time to read it carefully and completely. The best type of text is tailored to both needs.
Tone:
Make sure that the tone of your text is positive so that the reader feels like staying on your page.

Call-to-action:
An inviting, but not too intrusive call-to-action attracts attention at the end of your web content.
Outsourcing web content is a decision that speaks for itself. Content experts write content that not only informs, but also captivates, so letting those with the appropriate professional and technical requirements for the specific content get to work is an effective way to source unique messages.

Paving the way to the net:

Managing web content without programming knowledge
How do you create an individual website? Which editorial system is right for you? And what will publishing look like in the future? All good questions, but to answer the last first, it is anticipated that we will be working more with cross-media, that we will need to provide content more quickly and easily, and that networked content will play an increasingly important role.
So in order to achieve your goals with your high-quality web content, it should also be possible to manage it easily by using cutting-edge technology – without requiring in-depth technical knowledge. Good organisation is, therefore, the be-all and end-all. So you need a reliable and well-thought-out Content Management System (CMS) which supports you not only with regard to your content, but also the layout and navigation. The fact that the content is optimally displayed – even on mobile devices – is just as important as high scalability, multilingualism and the possibility to extend the whole thing modularly, itself a significant prerequisite. In addition, a CMS simplifies the individual work steps from creation through proofreading to publication. Not only that, it enables collaboration and efficient workflow in the team since the editors and the relevant administrator can use the system simultaneously.




Making content quickly and easily available is the goal of content management. And the key to flawless content management is a user-friendly CMS interface along with sufficient online storage space.
You can directly edit and quickly update the content within the framework of an editorial system. In addition, it is not complicated to integrate and store data, as well as flexibly control the final content in the network as part of your publishing process. Content such as texts, images and videos are stored separately from templates so that the layout can be constantly adapted without having to enter the content again and again. In other words, it's programmed in such a way that you don't have to worry about destroying something in the complex data landscape. And no matter how great the flood of information, it remains structured.
Whether you prefer Joomla, WordPress, TYPO3, Drupal or any other Content Management System bevorzugst – , the most important consideration is that it meets your requirements, is intuitive to use, and supports you in distributing brand-compliant and consistently relevant content.
In fact, the right Content Management System can become the backbone of your digital progress and contemporary communication. It can help you to create an online presence that has visibility and the potential to expand its reach. But even though you need powerful software, high-tech needs to meet usability so that even non-technical professionals can utilise it with ease.
Finally, you will want to know if your plan works and your web content strategy is paying off. What content exactly hit the bull's eye on which specific channel, for example? With the help of content tracking and tools like Google Analytics, you can examine the performance of your formats and measure your success. Do try to limit yourself to a few relevant key performance indicators and focus on them regularly rather than collecting an infinite volume of data. By doing this, planning future actions for your web content will definitely be easier.


Do you want to skilfully manage content but don't have the time to write?
Our copywriters will provide you with convincing content on request.